Project Exploration has appreciated the collaboration and partnership over the last year as we continued to provide STEM learning experiences to students in communities that are underrepresented in STEM. Our young people were dealt an extremely hard year, and we know that because of our partnership, we expanded our students' experiences and opportunities to participate in meaningful STEM.

This past year has laid the foundation for PE to re-envision the Chicago STEM Pathways Cooperative (STEM Co-op). The STEM Co-op's goal is to convene stakeholders in Chicago's STEM ecosystem to address inequities in the STEM learning continuum by facilitating cross-sector knowledge building, collaboration, and collective action. This work is needed now more than ever and through our partnership with you we would like to continue to work collectively, as a city, and expose students to STEM.
In 2012 we administered the State of STEM in Out-of-School Time in Chicago survey to OST providers across the city about their STEM programs and who they served.
The first STEM Landscape report findings:
More than 2,032 out-of-school STEM programs were run by more than 500 organizations in 2011
STEM and out-of-school time programs served an estimated 88,576 students
The greatest number of programs targeted 6th-8th grade students
Programs served more girls than boys (56.2% and 43.8%, respectively).
Latinos were underrepresented in programs compared to their representation in Chicago Public Schools
Libraries, museums and universities were underutilized as program sites in the summer compared with the school year, while community-based organizations took on a larger role during the summer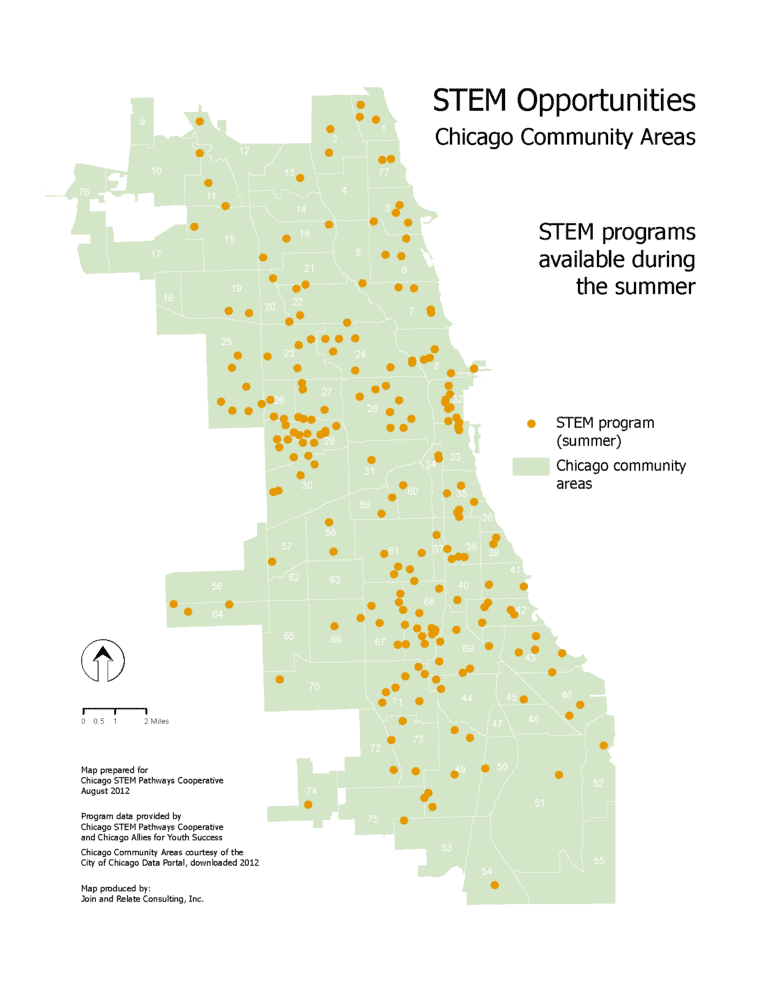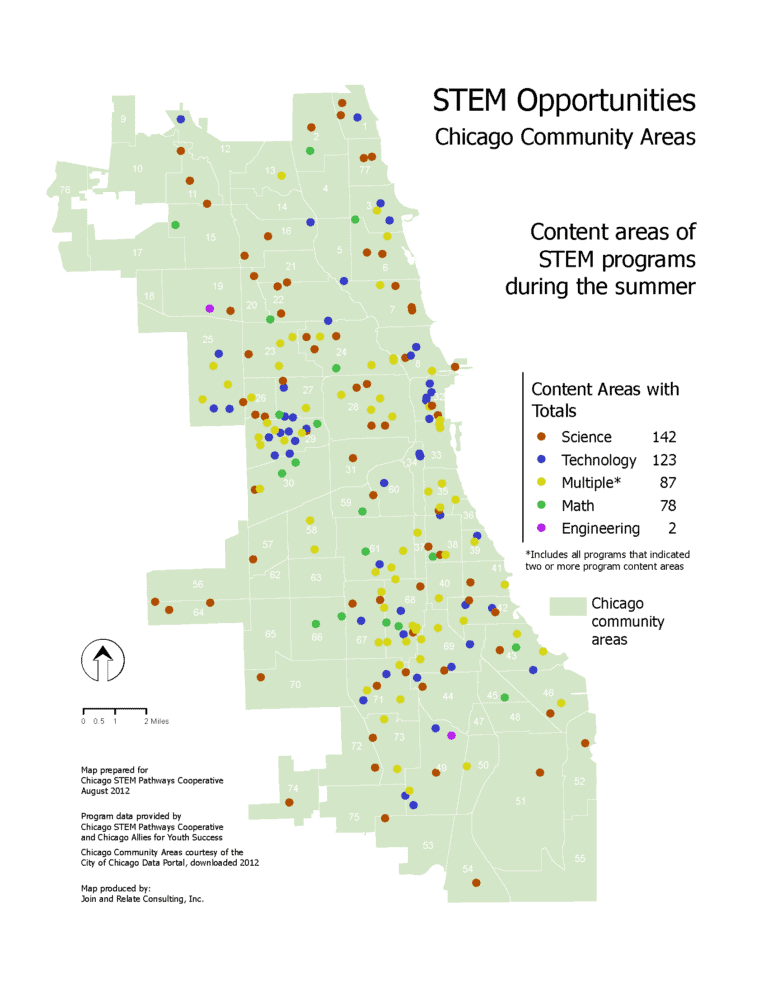 Chicago OST STEM Landscape Refresh
We are excited to share that we will be re-administering the survey to glean the current state of STEM education in the out-of-school time.
We would like to continue to develop quality out-of-school time STEM experiences, and better understand the STEM landscape. In order to do this, we need the help and involvement of the whole STEM ecosystem to determine where these experiences are happening, which communities are served, and how we can all join together with our expertise to have a city-wide impact.
Part 1 – Focus Group Reviews the Surveys

In advance of launching the survey we asked a focus group of STEM program providers and funder to review the survey questions and prove feedback. The objectives of the focus group are:
Identify additional data points and questions
Review a new STEM in OST Funders Survey
Part 2 – Administer the Survey

The updated landscape survey will be made available to the many STEM program providers in Chicago, as well as a funders survey to assess the landscape of STEM funding.
Do you run a OST STEM program in Chicago? Participate in the Provider Landscape Survey.
Criteria to participate in report:
Meet outside of school time
Serve youth K-12
Serve CPS students, though not necessarily exclusively
STEM program is the primary purpose
Meet at least one for 2 hours or for multiple sessions
Run between Jan 1 to Dec 31
Are you a corporation or foundation that funds programs in Chicago? Participate in the Funder Landscape Survey.
Criteria to participate in report:
Fund STEM programs in Chicago
Corporation, foundation, or individual
Programs serve CPS students, though not necessarily exclusively
Run between Jan 1 to Dec 31
Be notified and stay up to date with the project by joining our newsletter.